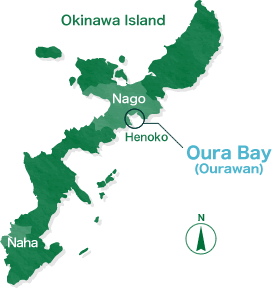 A wonderful forest still remains at the basin of the Oura River, where nutrition is carried into the sea by flowing rainwater…
Mangroves, beds of sea grass, mud flats, colonies of corals, the edge of the reef, and finally a 60-meter drop-off into the deep, blue sea. Because of the area's rich diversity, there are numerous marine creatures that inhabit the bay. While observing them close-up or from a distance, we realize how wonderful it is to have this untouched part of nature, and we are filled with excitement. We are proud of our ocean.
About Diving Team Snack Snufkin
Diving team Snack Snufkin is a group of people who love diving, nature, and really care about the Oura bay. Leader of this team has started taking photos and recording videos since 1998. Ten years have passed, and now we are trying to tell people about the nature of Oura bay with hundreds of underwater photos we have taken at there. We continue our activity hoping that the nature and eco system of Oura bay would remain as it is.